Reports from the world of equine science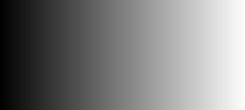 © Equine Science Update 2001 -2017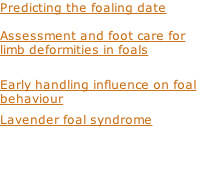 Curly horses may provide the solution for riders who are allergic to horses.
Having or developing an allergy to horses at the very least interferes with the rider's enjoyment of horse riding. At worst, could prove life threatening.
Dr. Wolfgang Mitlehner, a private medical practitioner from Klappholz, Germany, is particularly interested in respiratory medicine and allergies.
Since 2009, he has addressed the question of whether riders who are allergic to horses can ride so-called "hypoallergenic horses" - Curly horses.
So far he has studied 50 allergic riders with positive results. Interestingly, it seems that not only are the riders able to ride the Curly horses without problems, but overtime, they may lose their allergy to other horses as well.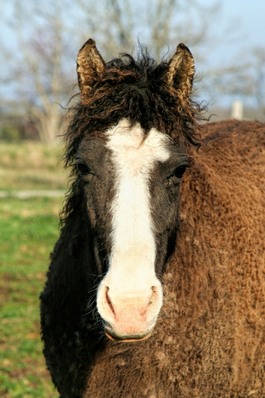 Two young women and one adult used to experience both asthma attacks and skin, nose and eye symptoms when in-contact with horses. The adult rider even suffered allergic shock on contact with a horse. After 40 Curly-horse-riding lessons, all three riders can now ride and do so regularly. They have not experienced any more allergic symptoms, as they used to do previously.
Dr. Mitlehner has recently published the results of a study, which he carried out in conjunction with Prof Bodo Niggemann of the Dept. of Pediatric Pneumology and Immunology, at the University Children's Hospital Charité, Berlin.
They investigated 40 horse allergic riders over a period of 37 months. They monitored their patients allergic response using skin prick tests and by measuring airflow in their upper or lower airways. (Constriction of the airways that may occur in allergic responses leads to reduction in airflow.)
Three of forty patients showed an initial significant reduction in airflow. This was reversed by single inhalation of salbutamol, and did not occur on subsequent riding sessions.
Further regular exposure to the Curly horses resulted in abolition of the mild allergic reactions that were noticed initially. Dr. Mitlehner suggests that this may be due to hypoallergenic properties of these horses, as they produce a weaker reaction to the skin prick test than do other horses.
He concludes that, after a period of three years, a loss of reactivity to normal horses could be confirmed in some of the riders.
He suggests that Curly horses may be a suitable alternative for horse allergic riders if the methodological precautions of this study are followed.
For more details, see:
Horse Allergy: Curly Horses Allow Horse Allergic Riders To Ride Again.
Mitlehner W, Mitlehner HC, Niggemann B.
Pneumologie. 2015 Dec;69(12):711-718.
© Dawn Young | Dreamstime.com